Walking around the castle town
Trip Ideas
Walking around the castle town
half-day
A quick half-day to really get close to Ueda's charm in a retro and modern walk around town. You can try on some Ueda Tsumugi (silk), called one of Japan's 3 great tsumugi, and enjoy the good old castle town of Ueda on a whole new level. There's plenty to enjoy on your trip, and pick up some choice sake as a souvenir.
Iijima Shoten
In an eye-catching art deco building, Iijima Shoten makes and sells Misuzuame, a well-known confection using fruits grown in Japan such as apricots, apples, and grapes, with a rich sweetness like jam and fresh aroma but a touch of acidity. The store was constructed in 1924 during Ueda's booming silkworm trade, and the interior remains as elegant as it was back then, a pleasant sight as you enjoy shopping.
Google Map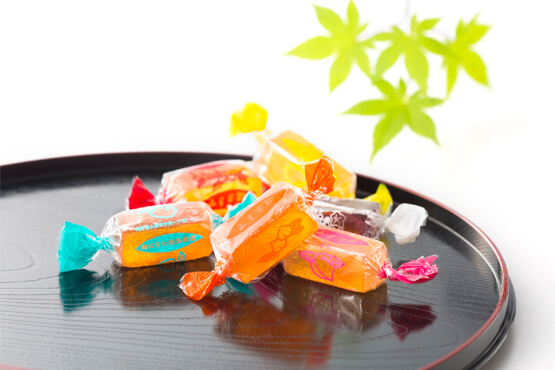 Location
1-1-21 Chuo, Ueda
Closed
Dec 31st afternoon, Jan 1st
Yutakaya
At Yutakaya, they offer a rental service for Ueda Tsumugi (silk) kimono as well as help putting it on correctly. Choose a kimono and obi (sash belt) in patterns you like and have a pro help you put them on in a Japanese style room with tatami mats and shoji screens. Men and women alike can be transformed into chic kimono-wearers in about 30 min.
Google Map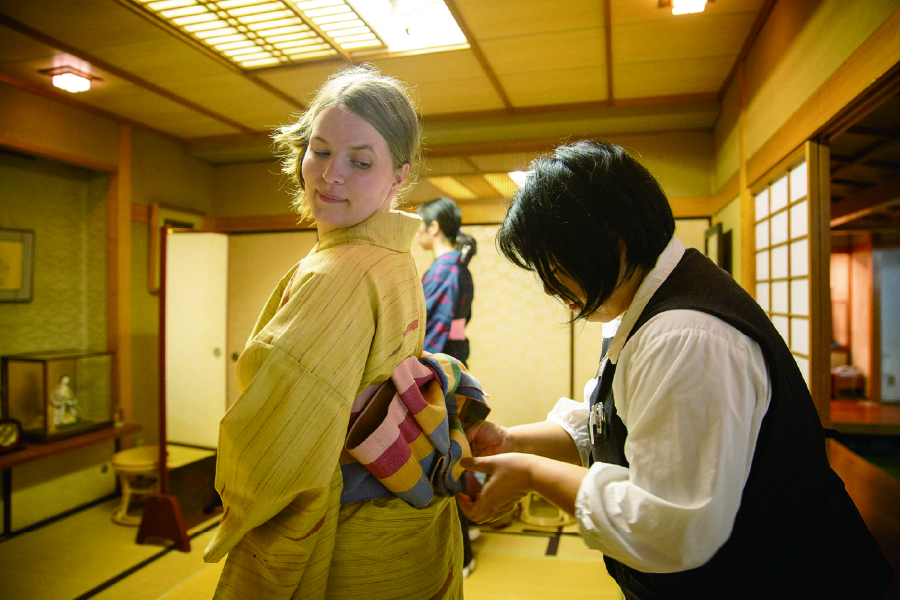 Shinshu Apple Pie Laboratory
This shop sells apple pies made from 2 or 3 different varieties of Nagano-grown apples, depending on the season. Their unique method of preparing them brings out the respective character of the different apples, so you can enjoy comparing the different tastes. At the entrance you are greeted by their trademark noren curtain. Why not take a picture in front of the noren in your kimono to commemorate your trip to Ueda?
Google Map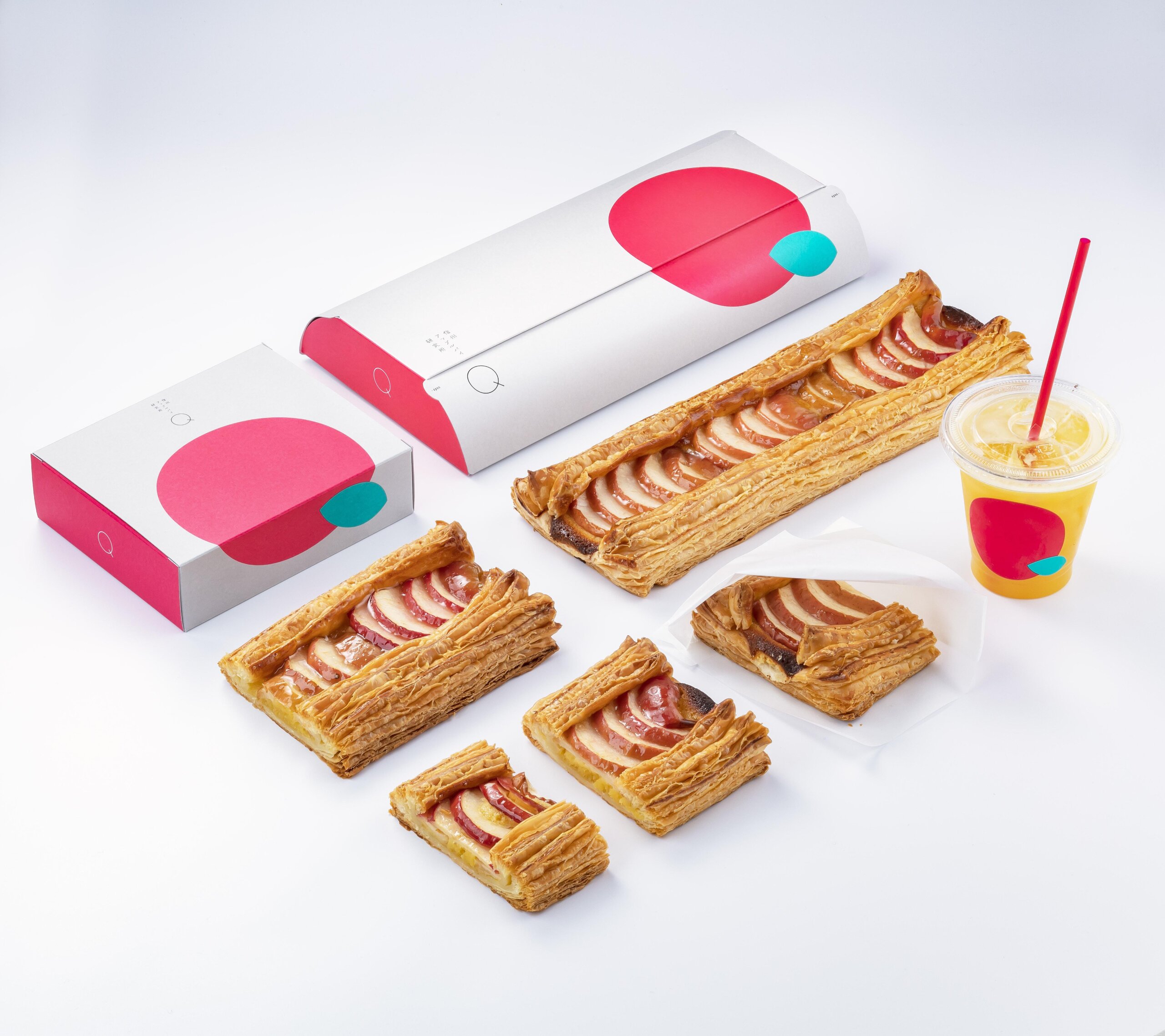 Location
2-4-12 Chuo, Ueda
Ueda Castle
The symbol of this city, Ueda Castle was a castle of tight defenses, with layer upon layer of moats surrounding it. Now it is maintained as park that abounds with nature, with the water-filled moats reflecting cherry blossoms in spring and colorful leaves in fall in a scene that is truly Japanese. At Sanada Shrine inside Ueda Castle, they distribute "gojoin" the design of which incorporate handwritten calligraphy in Japanese ink, an illustration of the Ueda Castle gate, and the family crest of Ueda Castle's historic Lord.
Google Map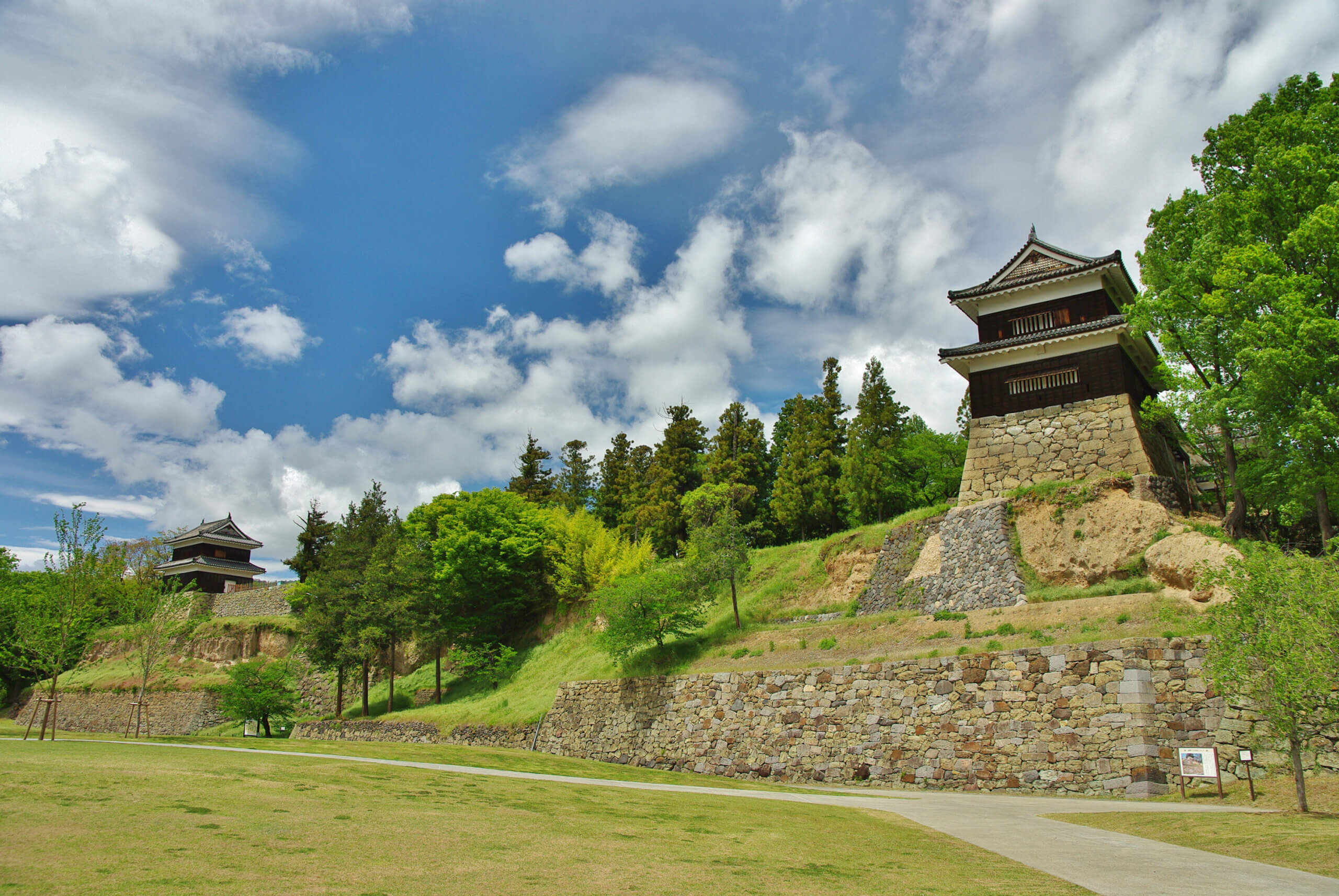 Tel
0268-23-5135 (Park Management Office)
Hours
Park: Accessible 24 hours/day
Ueda City Museum, Ueda Castle Yagura Gate: 8:30 – 17:00 (Final entry 16:30)
Closed
Park: Open year-round
Ueda City Museum: Closed Wed, the day after a holiday, and around New Year's Day (Open every day in April, August)
Ueda Castle Yagura Gate: Closed Wed, the day after a holiday (Open every day in April, August) and Dec to March except the last Sat and Sun of March
Hyakuyotei
Hyakuyotei is a café run by a tea ceremony teacher on the north side of Ueda Castle Park. We suggest you gaze at the Japanese garden while tasting matcha green tea and traditional Japanese sweets shaped like the flowers of the season.
Google Map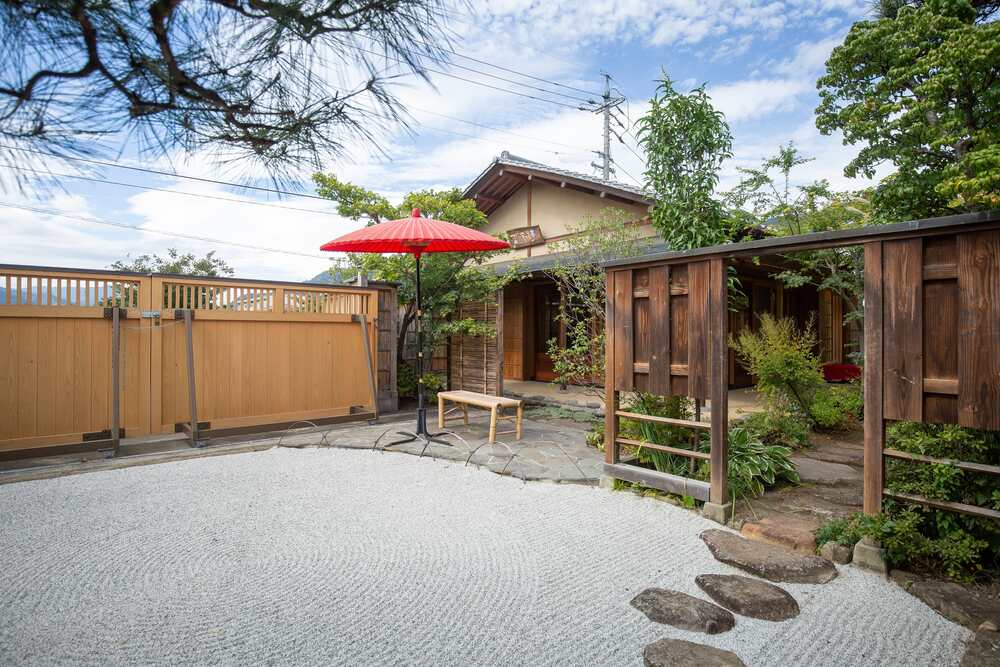 Location
1-3-21 Chuo Nishi, Ueda
Closed
Wednesdays (except holidays)
Yanagimachi Street
Yanagimachi once prospered as a post town on the highway to Edo (present day Tokyo). Large stores and sake breweries more than 100 years old line the street, making it like wandering into a historical drama. The people who live here preserve what even in Japan is considered a precious historic scene as they sell Shinshu soba noodles and yakitori from the buildings, renovate them into restaurants, bakeries, and wine shops, and delight those who visit.
Google Map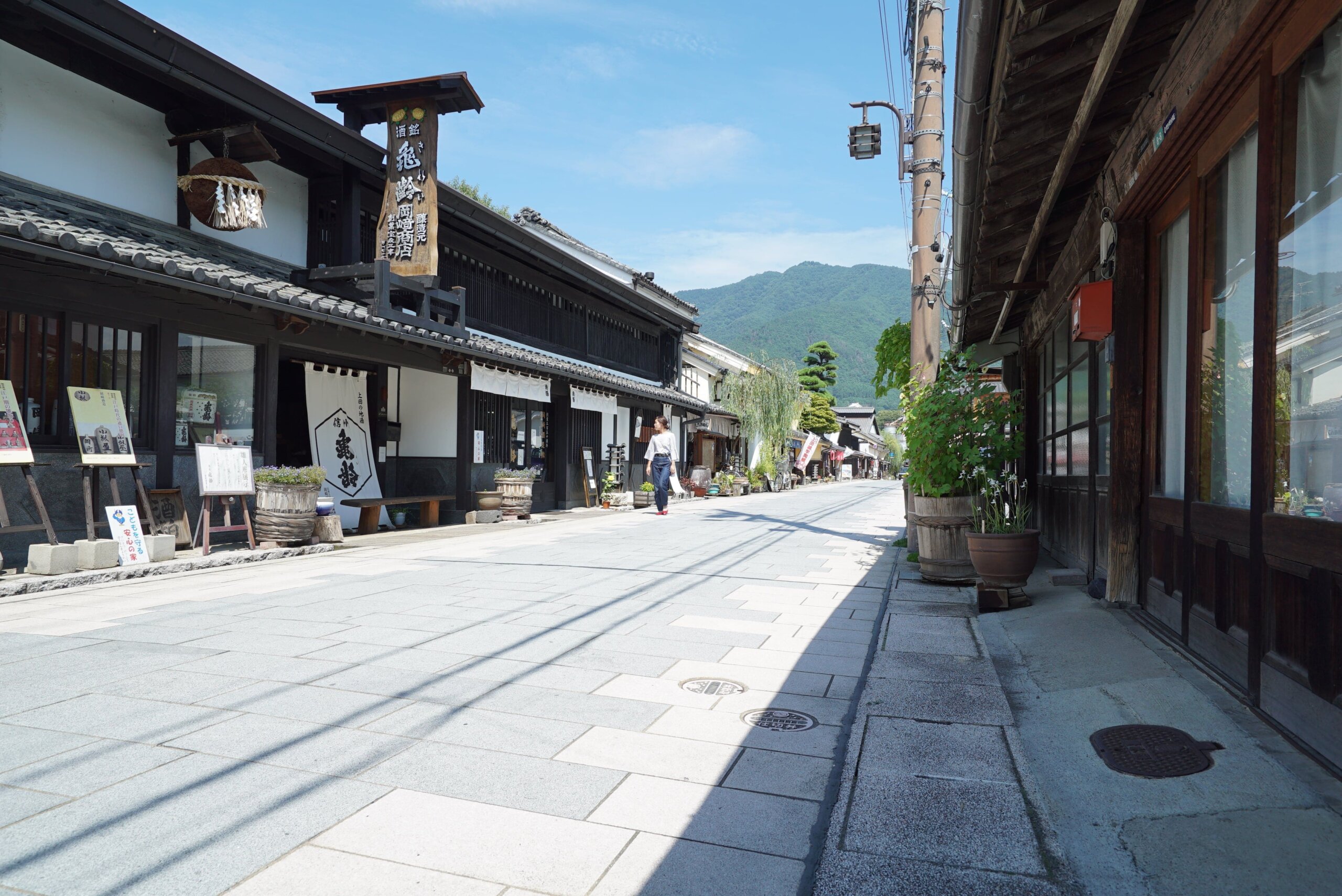 Location
4 Chome, Chuo, Ueda
Return the kimono to Yutakaya
Kitamura Shoten
A souvenir shop 1 min on foot from Ueda Station. We recommend the local sake, which can be pumped into an empty bottle right there thanks to the tank in the shop, allowing you to bring home delicious sake just as its meant to taste.
Google Map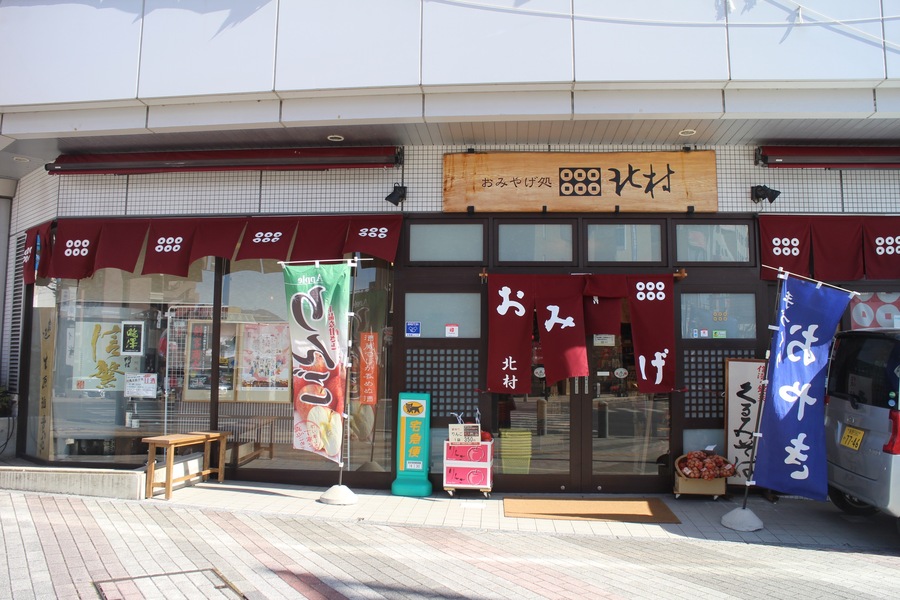 Location
Paleo 1st Fl., 1-8-1 Tenjin, Ueda